Applications of Data Science
Published on August 25, 2022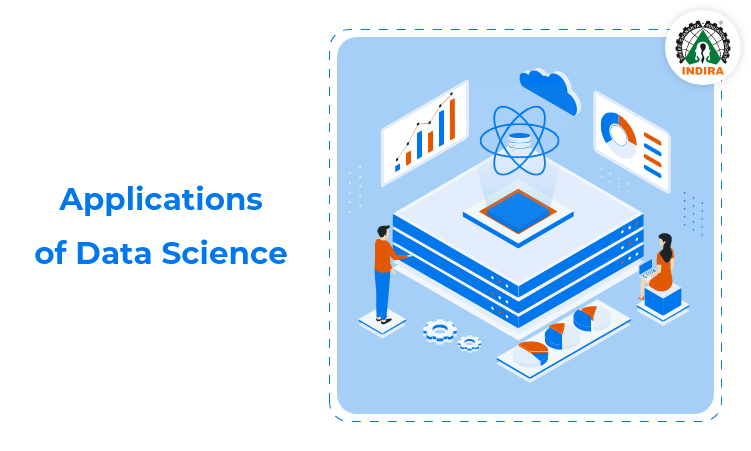 Artificial Intelligence
The term Artificial Intelligence is used so frequently that we have a basic understanding of what does it mean as a computer's ability to perform tasks similar as visual perception, speech recognition, decision-making, and Natural Language Processing. AI has made progress exponentially over the last decade, but it's still nowhere near matching the vast limits of human intelligence. Humans can make quick use of all the data around them and can use what they have stored in their minds to make opinions.
Data Science
Data science is an interdisciplinary mechanism that uses scientific methods, processes, algorithms and systems to extract knowledge and insights from structured and unstructured data, and apply knowledge and actionable insights from data across a broad range of application domains. Data knowledge isn't just related to the statistical aspect of the process, but it feeds the process and derives benefits from it through data engineering. Data masterminds and data scientists have a huge part to play in propelling AI forward. Data science uses different machine learning algorithms to build predictive models.
Deep Learning
Deep learning is nothing but a machine learning method that clarifies computers to do what comes naturally to humans: learn by example. Deep learning is an important technology behind driverless cars, enabling them to recognize a stop sign, or to distinguish a pedestrian from a lamppost.
It is the important to voice control in consumer devices like tablets, TVs, phones etc. Deep learning is getting lots of attention recently and for good reason.
A deep learning computer model learns to perform classification tasks directly from images, text, or sound. DL Model can achieve up-to-date accuracy, occasionally above human-level performance. Models are trained by using a large set of labeled data and neural network architectures that contain many layers.
Broad Applications of Deep Learning, Data Science, and AI
The use of deep learning, data science, and AI is increasing day by day. AI has a significant part to play in shaping the benefits that we may enjoy in the future. Following are some of the applications of present's technologies and services that are use deep learning, data science, and AI.
Speech Recognition
Thanks to AI and many smartphone manufacturers, because of them you can ask your device to detect the nearest ice-cream shop or order pizza, without coding a single word. It is the invention of artificial intelligence that implements the understanding the computers of what you saying. It takes total machine learning to do this through AI.
Fraud and Risk Detection
The initial applications of data science were in Finance. Companies were fed up of bad debts and losses every year. However, they were having lot of data which they used to get collected during the initial paperwork while sanctioning loans. And they have decided to bring that data in front of data scientists in so as to save them from losses.
Above the years, banking companies learned to divide and conquer data via customer profiling, past expenditures, and other essential variables to analyze risk. Moreover, it also helped them to push their banking products based on customer's purchasing power.
Medical Image Analysis
Procedures such as detecting tumors, organ delineation employ various different methods and frameworks like MapReduce to find optimal parameters for tasks like lung texture classification. It uses machine learning methods, support vector machines (SVM), content-based medical image indexing, and wavelet analysis for solid texture classification.
Blog by :
Mr. Rahul Devshetwar,
Project Manager,
Cognizant Technology Solutions
Department of MCA
Batch 2012-2013
Posted in:Computer Engineering, ICEM Alimni